Construction Injury Lawyers Can Help Workers Who Have Been Injured on the job.
Working in the construction industry is dangerous. Not only does the laborious work take a toll on your body, it also exposes your body to machinery, projectiles like nails, deadly electrical current, potential for falls and vehicle traffic. The ways you can suffer injury on-the-job in construction are unlimited. In fact, the Occupational Safety and Health Administration (OSHA) of the U.S. Department of Labor reports that one in 10 construction workers is injured at work each year.
If you are a construction worker injured at work, you need the help of experienced construction injury lawyers in Los Angeles. It is difficult to cope with all aspects of such an injury alone. Besides having serious medical issues and pain related to your injury, your bills will increase. Together, your financial and medical worries add to your concerns about missing work. But you have rights under California laws.
The construction injury lawyers in Los Angeles of Kesh Law specialize in helping hurt construction workers just like you. We help you understand your legal position and the options you have through workers' compensation. Our lawyers are eager to help and can make your situation easier. Call us at (818)639-3955 or reach out to us using our quick contact form on KeshLaw.com.
Types of Construction Work Injuries
As said before, there are almost unlimited ways construction workers can suffer injury on-the-job. Below are the highest risks for injury on construction sites, according to OSHA:
Slip-and-fall or falls from heights – 34% of all fatal construction worker injuries, such as falling from ladders, buildings or scaffolding or into holes or ditches
Transportation and vehicle events – 25% of all fatal injuries for these workers, such as in a traffic accident or when operating heaving machinery
Contact with objects and equipment – 19% of all construction related deaths, such as from malfunctioning tools or faulty equipment
Exposure to harmful substances and elements – 16% of deaths in construction, including electric shock and chemical burns
Besides these "fatal four" injury categories, OSHA also acknowledges many construction workers die each year from failure to use appropriate protective gear like hardhats or other personal protection equipment. There are also a high number of repetitive motion injuries in this industry, accounting for damage to muscles and soft tissues.
Effects of Construction Worker Injuries
Injuries among construction workers are highly varied, just as the effects of these injuries are, too. The most common effects of on-the-job construction accidents include:
Broken bones
Head injury
Traumatic brain injury (TBI)
Eye injury
Electrocution
Back injury
Knee and ankle injury
Spinal cord injury
Burns
Neck or shoulder injury
Short- and long-term illnesses
The injuries a construction worker risks every day include those that can heal with adequate medical care. But the risk also includes permanent, debilitating injuries that change the course of the worker's life. Many of these accidents and injuries are fatal. All can lead to high medical costs, lost income and other permanent effects on both the worker and their family.
Options for Construction Workers Injured On-the-Job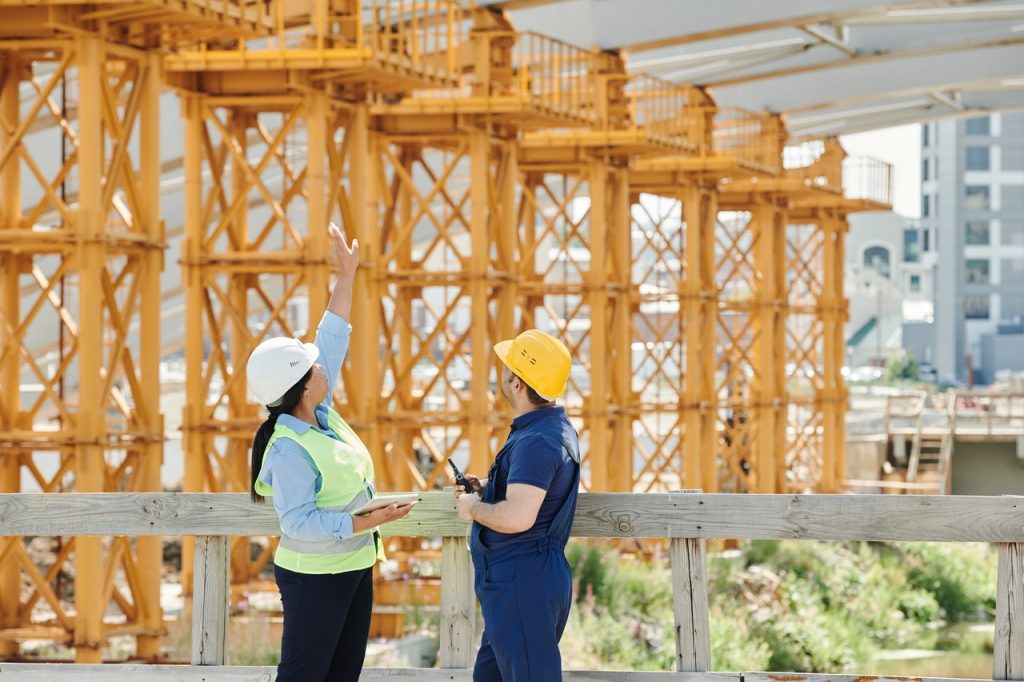 Your bills do not stop coming in just because you experienced injury on-the-job at your construction site. In fact, more bills pile up from expensive medical care. If you are hurt at work, you have to take time off to heal. You may even end up having to take a less physically demanding role when you are able to return. Many injured construction workers have to stop working permanently after their injury. Lost income can lead to financial disaster.
If you are injured at your construction job, the workers' compensation laws of California exist to help you. You just need the assistance of experienced construction injury lawyers in Los Angeles. At Kesh Law, we work to protect your rights and assist you, as an injured construction worker, in getting the benefits you need and deserve.
What are workers' compensation benefits?
All employers in the United States must buy workers' compensation insurance for their employees. In southern California, as elsewhere in the country, this insurance covers workers hurt on-the-job.
If you suffer injury at work, you are entitled to these benefits. It does not matter if the injury happened while you were driving a work vehicle off-site or performing hands-on construction on a property. This coverage benefits you even if your employer did everything right and was not negligent. Even if your injury happened because you made a mistake, you are possibly covered under workers' compensation.
Workers' compensation benefits provide substantial help in the aftermath of a construction worker's injury. This help includes payment of:
Medical expenses
Lost wages
Disability benefits for temporary or permanent disability
Death benefits for surviving dependents if the accident is fatal
Disability payments help injured construction workers if you cannot work for the short- or long-term. They may also help to make up your income difference if you must take a lower paying job after the injury.
Workers' compensation claims are not just for acute injuries caused by an on-the-job accident. You can also make a workers' compensation claim for repetitive stress injuries and illnesses caused by exposure to toxic materials.
Our Attorneys Assist Construction Workers Injured On-the-Job
If you or your family member suffered an on-the-job construction injury, the lawyers of KeshLaw can help. We provide experienced workers' compensation legal representation.
Ways we can help you include:
Explaining your rights and deciding whether to file a workers' compensation claim
Resolving issues with the insurer over unpaid bills, medical coverage disputes or if they rush you to go back to work before healed
Collecting evidence of eligibility for these benefits
Ensuring accident claim resolution in a timely manner
Appealing your claim after initial denial
Negotiating settlement if a dispute occurs
KeshLaw construction injury lawyers in Los Angeles operate on a contingency fee basis. This means you do not pay us anything upfront to work on your workers' compensation claim. We are only paid if we win your case, so you can afford our help. You will receive the highest level of representation while we work to help you get the benefits you deserve.
Our support professionals are available 24 hours per day, 7 days per week. Contact KeshLaw for your free consultation using our online inquiry form or by calling us at (818)639-3955 today.