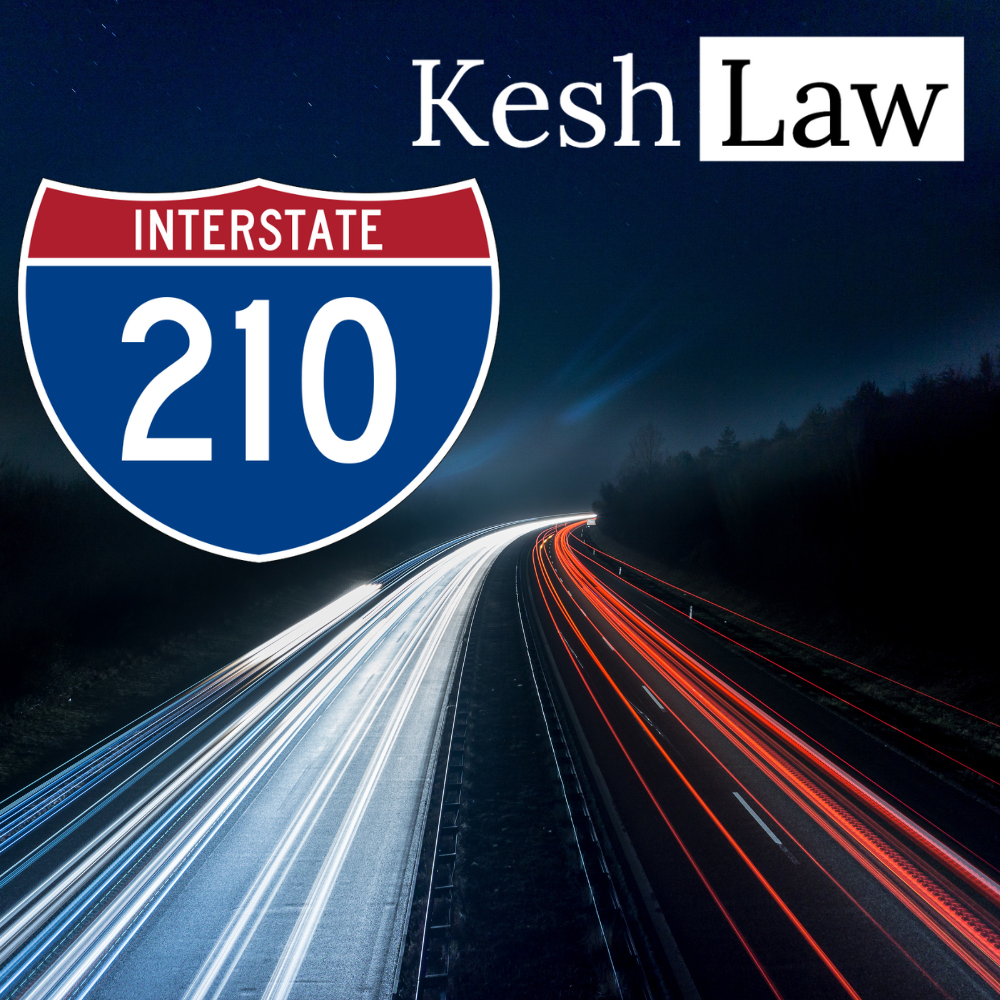 The 210 freeway, also called the Foothill Freeway or Route 210, is one of the most geographically diverse highways in Southern California. Since 1968 it has guided vehicles through bustling cities, alongside San Gabriel mountain landscapes and over foothills, even blending into part of the famed Route 66. This is also the freeway once used as a primary setting for the popular TV show, CHiPs. Unfortunately, the 210 has been under almost perpetual construction since the first segment opened. That construction, heavy traffic and other factors create the ideal conditions for daily 210 freeway accidents.
If you have been in a recent 210 freeway accident, it is important that you understand your rights as an accident victim. Insurance companies do not have accident victims' best interests in mind when settling claims. Nor do they typically pay unrepresented claimants the full amount they should. Having the representation, guidance and support of an experienced 210 accident lawyer from Kesh Law is critical in recovering the compensation you are owed from insurance companies.
Safe Driving to Prevent Your Own 210 Freeway Accident
The best way to prevent your own 210 freeway accident is to exercise safe driving habits. While this sounds easy enough in theory, it is harder to practice without fail. Every driver has moments of lapsing attention or mistakes made while behind the wheel. Unfortunately, these are the moments when we are most likely to experience a 210 accident.
The best safe driving tips to prevent 210 freeway accidents include:
Keep a safe following distance between you and cars in front of you
Maintain a safe speed within posted limits and according to freeway conditions
Plan your route in advance to avoid confusion or hasty movements
Keep your line of sight to the roadway clear
Keep your eyes on the road and off of handheld devices
Ensure your vehicle is well maintained and free of defects
Remain alert and pull off the freeway to take a break if you get tired
No stopping or use of the shoulder unless you need emergency assistance, such as after a 210 accident or when directed by police
Even being the safest driver cannot guarantee you will not be in a 210 freeway accident. When freeway accidents occur, they typically involve major vehicle damage and more serious injuries than accidents occurring on surface streets.
The good news is that California's highway fatality rates are dropping, according to accident data from the past several years. This decrease is not due to driver improvement, but because of better safety features on the roads and within most vehicles. Despite lower death rates from 210 accidents and other freeway accidents, disabling injury statistics are as common as ever before.
File a 210 Accident Claim If You Are in a 210 Freeway Accident
If you are in a 210 freeway accident or lose a loved one as a 210 accident fatality, it is very important that you file a freeway accident claim. This type of insurance claim helps you pay for medical bills, vehicle repairs and other costs. With an experienced freeway accident attorney, you can receive the maximum possible settlement. In most cases, the insurance companies settle when they see you have a skilled 210 accident lawyer on your side. This means your case may settle quickly without needing to take it to court.
Southern California's Other Dangerous Freeways
A 210 freeway accident is not the only type of highway accident you risk in the Los Angeles area. Some of the most accident-prone highways in Southern California include:
1. Interstate 5 (I-5)
Besides being one of the most dangerous freeways in California, 800-mile long Interstate 5 is also the fourth most dangerous in the nation. It ranks high in highway traffic fatalities and injuries, too. Incredibly, there are typically over 100 fatal freeway accidents on this stretch of freeway each year.

2. State Route 2 (SR-2)
Deadly freeways in the Los Angeles area like I-5 barely beat State Route 2 on any list of the region's most dangerous. This highway has restrictions on the size of vehicles that can use it. For example, only vehicles with two axles are permitted. Still, about 50 fatal crashes happen here each year. Most drivers using this route to get from the Los Angeles Basin to the San Gabriel Mountains do not realize the deadly nature of SR-2.

3. US Highway 101 (US-101)
US-101 can take you from Los Angeles to Seattle. But in past years, drivers faced an annual average of two accidents for every mile. When accidents do occur on the 101, they frequently involve multiple vehicles in a pile-up. This means associated injuries and vehicle damages are typically quite severe, too.

4. Interstate 8 (I-8)
Getting from San Diego to Phoenix is made easy when you hop on the I-8. But this freeway is as dangerous as I-5 in L.A. It is the scene of just as many accidents, more than 100 per year, as its Los Angeles counterpart.

5. State Route 78 (SR-78)
Another highly dangerous Southern California highway is SR-78, a stretch of highway from Oceanside east to Blythe that claims about 75 deaths per year. That is about one death per year for each of its 215 miles.
We Help 210 Freeway Accident Victims
If you or your loved one have been in a 210 freeway accident, the highly experienced Southern California accident lawyers of Kesh Law can help. We stand up against insurance company tactics to ensure injured victims receive the compensation they deserve. We will fight to recover compensation for your medical bills, vehicle repairs and other costs related to your accident. Call Kesh Law now at (818) 639-3955 or fill out our online form for a free auto accident claim consultation.